It is with sadness that we mark the passing this week of David Onley, former Lieutenant Governor of Ontario from 2007 to 2014. Many of you will know that most recently Mr. Onley was an Associate Professor, Teaching, in the Department of Political Science here at UTSC. But did you also know that he was also a student at Scarborough College(UTSC) in the 1970s, President of the student council (SCSC) and a long-time resident of Scarborough?
UTSC Undergraduate students had the opportunity and privilege to interview Mr. Onley about his work and experience at UTSC. One of the interviews took place in 2013 prior to the end of his appointment as Lieutenant Governor and the other in 2015 after he had joined the faculty of UTSC, as part of the UTSC 50th Anniversary Legacy Project.
Here is an excerpt from the 2013 interview with Aliza Fatima and David Onley:
Seeing as how diverse and multicultural our campus is today, do you remember any initiatives taken during the 1970's which worked towards ethnic equality and tolerance?
When I arrived at Scarborough College in 1970, (and I will keep calling it that since that's what it was back then), I'd come from a high school nowhere near as multicultural as it is today. That is understandable as it was 40 years ago. The first thing that struck me was how culturally diverse Scarborough was, even back then. I was also amazed that the biggest single group involved in the college community was called SCISA(Scarborough College International Student Association)…
How would you describe the student politics at that time and your experience as the head of SCSC? 
It was significantly different in the early 70's when SAC [Student Advisory Council] downtown as the greater entity, was involved in the larger political issues of student governance, fees, protests against the war in Vietnam and a whole range of things…. it's very much like we were the local government versus the federal government, if you want to put it in that very rough analogy. So as I became Council President, one of the realities was that our campus was very young that we didn't have a very specific identity. At exactly the same time there was … the University of Toronto Presidential Commission on the future of the satellite campuses, Erindale and Scarborough. So there was a great amount of discussion going on within the University of Toronto as to what the future was going to be. And so rolling that altogether, the focus politically became much more concerned and identified with helping to create an identity for Scarborough College itself. Different things were undertaken such as the creation of the radio station so there was an ability to communicate. There was a difficult and ongoing struggle to create a semi-regular newspaper which of course the original was Balcony Square and initiatives like having our first Oktober Fest. It all sounds very small in today's terms but … we were just very aware as a group on council, of the need to create these elements which in total formed the culture that Scarborough College could grow on.… repeated attempts by the University to get residences had failed and it was the student council initiative that succeeded and we were the ones who made it possible …. That was a huge thing because there were only a handful of very small co-op houses along Military Trail. It really was a purely commuter College. So, … having gotten the money from the government to build the first residences, to start a radio station, and have more cultural events, they were fairly significant developments in the formation of our history of a greater culture within the College.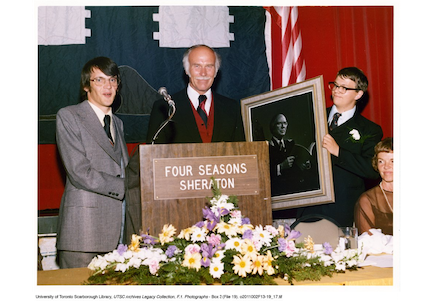 How would you describe your overall experience as a student at Scarborough College? How has it contributed to your career over the years and to your personal lifestyle as well?
Well, I can honestly say they were some of the very, very best years of my life. I was there for five years, not because I needed five years to get twenty credits but because I was having so much fun, I didn't want to leave. Being elected as president of the student council was wonderful. Being re-elected as president of the student council was something that I really didn't think was going to happen, but it just seemed the logical thing to do. And that's when I decided that well I'm going to enjoy this experience of being president and if it takes me a year longer to graduate then so be it. Some of my best friends, best memories, some of the most important life lessons that I've learned took place in those five years.
Probably the skill set that became the rest of my career was really developed then even though I didn't realize it at the time. And probably the single best piece of advice I ever had was from one of my professors, John Colman who taught political science. I think I took four of his courses over the years. He was an excellent political science professor that we as a group, some of the people that I mentioned earlier, we would basically try to follow him around and look for courses that we could take with him because he was that good. He would just engage your brain in such an amazing way.  My very final paper happened to be with one of his courses … At the bottom of the paper he inscribed it and said "Congratulations and best wishes in your future career. It's been good to have you in my classes over the years," but it was what he said next that totally stuck with me. "Always try very, very hard to put down on paper the thoughts that I know you have in your head."… It has stuck with me all these years. And I have to tell you sometimes I can't even write or sign a birthday card or something without thinking really, hard about what I want to say. I appreciated that comment so much. 
And so you put it together as a totality and you come away with, even though there are various difficult times [in] all student's experience, you know there are heart-aches and heartbreaks along the way, but in its totality it was just a spectacular time.
To hear more about Mr. Onley's experiences growing up in Scarborough, at Scarborough College/UTSC and his role as Lieutenant Governor visit: https://sohp.digital.utsc.utoronto.ca/islandora/object/nearbystudies%3A368
Sources:
An Interview with the Honourable David C. Onley, Ont. 28th Lieutenant Governor of Ontario, Representative of Her Majesty the Queen of Canada. Interviewer: Aliza Fatima, University of Toronto Scarborough, March 28, 2013. HISD44: Nearby History: the methods and practice of local history. Transcript edited April 1, 2013.
Interview with David Onley. Interviewer, Shant Bedakian; Observer and recorder, Nathan Walter. June 4, 2015. https://sohp.digital.utsc.utoronto.ca/islandora/object/nearbystudies%3A368 HISD25: Oral History and Urban Change
"D. Onley and Principal Campbell at Decennial Event and Convocation Ball." University of Toronto Scarborough Libary. UTSC Archives Legacy Collection. F.1. Photographs, Box 2 (File 19) o2011002F1-3-19_17