What makes a given location perfect for filming? It's a big question. Location is, after all, arguably one of the most important aspects of film production, as filmmakers have to consider how to best translate the narrative charge of a story into a physical space. Location, in this sense, functions not only as a passive backdrop to plot events, but rather an active character that should work with other production elements to add aesthetic depth to stories on screen. The right location does this and more, in a way that ultimately brings a director's creative vision to life in a fresh and exciting way; the wrong location, however, can create a sense of aesthetic awkwardness that can derail an entire production. Location, then, can make or break a film.
Over the years, Toronto has become a favourite location of filmmakers worldwide. It's a common occurrence to find parts of downtown blocked off and transformed into the world of a given movie or show; some popular examples of productions filmed in the city include Suicide Squad (2017), Pacific Rim (2013), Suits (2011-2019), and The Handmaid's Tale (2017-Present), among others. Although most aren't actually set in Toronto, if you look closely enough, you can often spot some Toronto-specific landmarks in the background of these works that give away where they were shot: red TTC buses, blue street signs, and the billboards at Yonge-Dundas Square, for example, make frequent surprise appearances on film. While some might dismiss these appearances as sloppy editing mistakes, those of us who live or work in the city might feel a strange sense of pride upon seeing Toronto be represented in this way. Such representations, in other words, make clear Toronto's status as a hub of arts and culture on a world stage. Admittedly, we might expect as much from one of the world's largest cities; however, did you know that UTSC is also a filmmaker favourite?
It might be hard to envision since, for most people, UTSC is primarily an educational institution, not a film set. Moreover, the campus doesn't necessarily have the stereotypical characteristics of the universities we see represented on film — think Gothic-style stone buildings, expansive lecture halls, and perfect green quads, like the ones we see in movies like Legally Blonde (2001) and Pitch Perfect (2012). Still, UTSC was and continues to be a popular filming location for filmmakers from all over. In fact, the school has an old relationship to film production: the campus — which, upon opening, consisted of the Science Wing, Meeting Place, and Humanities Wing, then collectively known as the Andrews Building after architect John Andrews — actually originally housed a television studio! The studio boasted 560-square-metres of space and over one million dollar's worth of cutting-edge equipment, which made it possible to stream live and pre-recorded lectures to 50 classrooms at once; on a larger scale, the goal was to provide an alternative mode of instruction in the face of growing student enrolments and thereby reduce instructional costs (Calvert). At the time, it was one of the world's most ambitious and innovative educational experiments, capable of revolutionizing the way people taught and learned at university. The experiment didn't last very long, though: many students were unsatisfied with the experience of having to sit through lengthy recorded lectures, and this, combined with the hefty cost of maintaining the studio, led to the studio's eventual closure in the years following.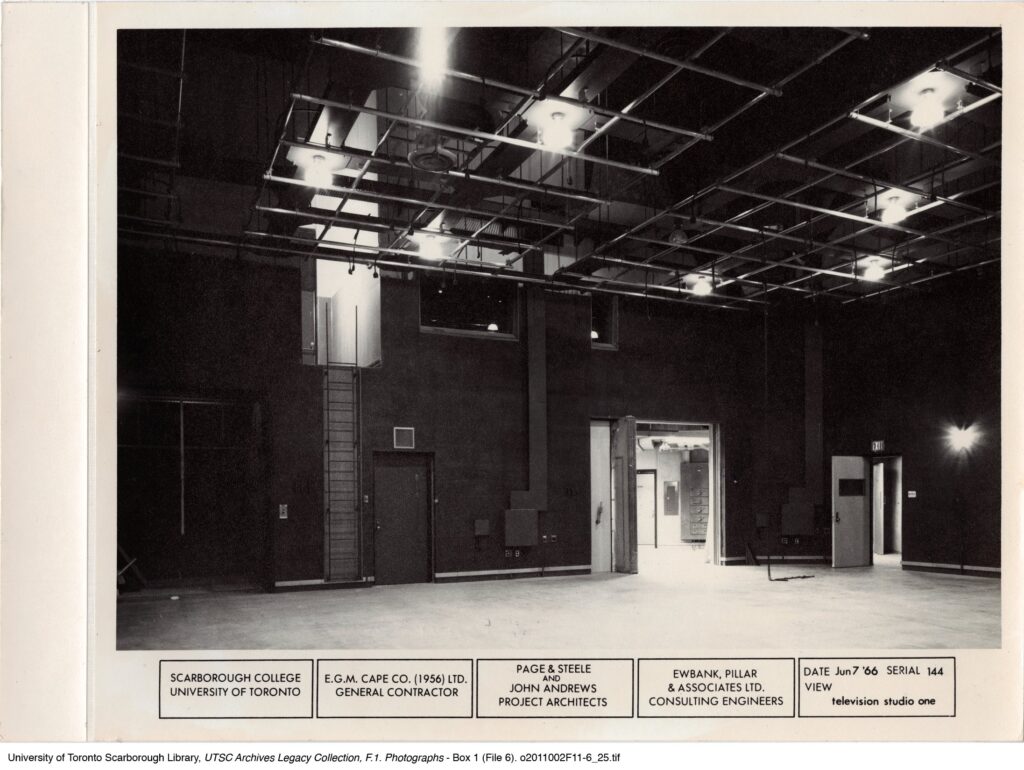 For filmmakers, however, the television studio was small change in the face of the visual draw of the campus itself, with many being particularly fascinated by the brutalist architecture of the Andrews Building. This style, which gained popularity in Europe and North America following the havoc wreaked by World War II, is characterized by an emphasis on redevelopment using minimalist structures that showcase the raw materials used in their construction (McLaughlin). At UTSC, this takes the form of a sloping, pyramid-like Andrews Building made of exposed concrete that houses a labyrinthine series of long hallways, hidden staircases, and stacked balconies. The building is imposing upon first sight, to say the least. Some early students even compared it to a "jam factory" or "fall-out shelter" (Williams and Rinne). Still, the Andrews Building was quickly recognized as a feat of brutalist design by architects worldwide and was featured in magazines from all over, even earning a cover story in the January 13, 1967 issue of Time magazine. Filmmakers were close behind: as early as 1969, Canadian filmmaker David Cronenberg shot his directorial debut Stereo at the Andrews Building, which features in the movie as the Canadian Academy of Erotic Enquiry. In the years since then, many more films have been shot on campus, with the Andrews Building being particularly useful for science fiction and fantasy stories. It isn't difficult to see why: the stripped-down design of the building gives the impression of being somewhere unnatural, separated from the everyday world that we know, an effect that can be further augmented through the work of set designers. As such, the Andrews Building has taken on a variety of otherworldly guises in the years that have passed: it has appeared as the ominous Cold War-era OCCAM Aerospace Research Center in The Shape of Water (2017); a secret government facility containing the deadly Ebola virus in 1989 in The Hot Zone (2019); and a bleak, dystopian university sometime in the near future in Enemy (2013). In and through these films, UTSC is transformed into a vision of past and present, utopia and dystopia, peace and unrest; it is not our campus, but rather a place of constant flux and flow that is consistently made and remade through the eyes of everyone who views it.
To this end, we might benefit from asking ourselves what really makes a university campus. Is there a specific architecture style that defines a university, or a particular facility that any university is incomplete without? Does time have something to do with it, with older universities somehow being more legitimate than newer ones? These questions don't have any easy answers. In the case of UTSC, however, it is safe to say that the campus is nothing without the people who work and move through it. Staff, students, and faculty make UTSC what it is, and without the presence of these people, any depiction of our school on film will feel artificial and empty, almost like a blank slate. For filmmakers, however, this blank slate might just be what makes our campus picture perfect.
For a closer look at some of the movies shot at UTSC, take a peek at "UTSC on Film", which features both film clips and insightful commentary from UTSC's very own Alice Maurice and Sara Saljoughi.
Bibliography
Calvert, Jo. 2014. "Lights! Action! Learning!" University of Toronto Magazine. Dec. 12, 2014. https://magazine.utoronto.ca/campus/history/lights-action-learning-jo-calvert/.
"Colleges: A Satellite Built for TV." Time Magazine. Jan. 13, 1967. https://content.time.com/time/subscriber/article/0,33009,843256,00.html.
Cronenberg, David, director. 1969. Stereo. Emergent Films.
Hart, James V., creator. 2019. The Hot Zone. National Geographic.
McLaughlin, Katherine. 2023. "Brutalist Architecture: Everything You Need to Know." Architectural Digest. July 12, 2023. https://www.architecturaldigest.com/story/brutalist-architecture-101.
Niccol, Andrew, director. 2018. Anon. Netflix.
Quijano, Bianca. 2016. "Filmmakers find UTSC 'perfect for production'." University of Toronto Scarborough News. https://utsc.utoronto.ca/news-events/archived/filmmakers-find-utsc-perfect-production.
del Toro, Guillermo, director. 2017. The Shape of Water. Fox Searchlight Pictures.
Villeneuve, Denis, director. 2013. Enemy. Pathé.
Wilks, Charles. 1966. "Television studio." University of Toronto Scarborough Library, Archives and Special Collections, Memory Collection, Archival Identifier o2011002F1-1-6_25. https://ark.digital.utsc.utoronto.ca/ark:61220/utsc9933.
Williams, Rick and Mike Rinne. 1967. "Interview with John Andrews." Marooned 2, no. 1. Dec. 25, 1967.